A weekend in Wimberley is the perfect little escape from Austin. It's not too far and there are plenty of fun things to do with kids. Here are the 10 best things to do in Wimberley with kids.
10 Best Things To Do in Wimberley With Kids
1. Rope Swing at Blue Hole
Blue Hole Regional Park has hiking trails, picnic areas, a community pavilion, playscape, basketball court, sand volleyball court, and amphitheater. However, they're perhaps the most famous for the Blue Hole Swimming Area. Swimming is only allowed May-September ($6-12, reservations required), but the park is free and remains open for hiking year-round (closed on Christmas). 100 Blue Hole Lane, Wimberley
2. Climb Old Baldy
Old Baldy is a hill in Wimberley with over 200 rock steps, much like Mt. Bonnell in Austin. It's easy enough for kids to climb, and you are motivated by the inspirational painted rocks you'll see along the way up. 33 LaToya Circle just off FM 2325.
3. Swim or hike at Jacob's Well
Jacob's Well is the second-largest fully submerged cave in Texas. It's open to the public from 8 a.m. – 6 p.m. daily. Reservations are required for swimming at Jacob's Well during summer months (May-September). Swimming costs $5-9. Hiking is free and is permitted year-round (no reservations necessary). No dogs, glass, alcohol, or drones allowed. Visitors who just want to hike do not need a reservation. No swimming is allowed from October 1-April 30. We went on a no-swimming day in October, but it was still worth the hike and seeing it in person! We will be back to swim someday!
4. Travel back in time at Pioneer Town
Pioneer Town is one of those places that makes the town of Wimberley so cute and quirky. We happened to be staying at the 7A Ranch, which is located right next to Pioneer Town, so it was very convenient for us! Make sure you visit the ice cream parlor if you come March-October, and check out the Bottle House (made entirely out of glass bottles)!
5. Feed the animals at the Shady Llama
The Shady Llama is a family-friendly beer garden WITH LLAMAS! Relax on the sprawling outdoor patio and let the kids play on the playscape while you enjoy the beer, view, and sunset. In addition, real, live llamas and donkeys are on the premises (and the bar will give you free food to feed them). This was definitely a highlight of our trip! 18325 Ranch Rd 12, Wimberley
6. Explore downtown Wimberley
With a charming historic town square, the Cypress Creek Nature Preserve, and kid-friendly restaurants like Community Pizza and Beer Garden, downtown Wimberley is everything you want a small hill country town to be!
7. Wimberley Market Days
Wimberley Market Days happens every first Saturday of the month from 7 a.m. – 4 p.m. March through December. There are almost 500 booths offering various items you'd find at a flea market, ranging from antiques to homemade crafts and everything in between. 601 FM2325, Wimberley
8. Kayak the Blanco River
You can swim and float in the beautiful Blanco River, but our favorite was seeing it from our kayaks! We stayed at 7a Ranch and rented kayaks from them as well. We loved seeing the gorgeous cypress trees growing out of the water along the banks. It was such a peaceful time.
9. Swim or float at Cypress Falls Swimming Hole
Another gorgeous place to stay in Wimberley is at the Lodge at Cypress Falls. They have a swimming hole on site where you can visit with a day pass for $6-8 if you'd like to float around on the Cypress Creek. You can rent canoes, kayaks, SUP boards, or tubes here as well. Dog are allowed (on-leash) and reservations are not required. 50 Marina Cir, Wimberley
10. Wimberley Zipline Adventures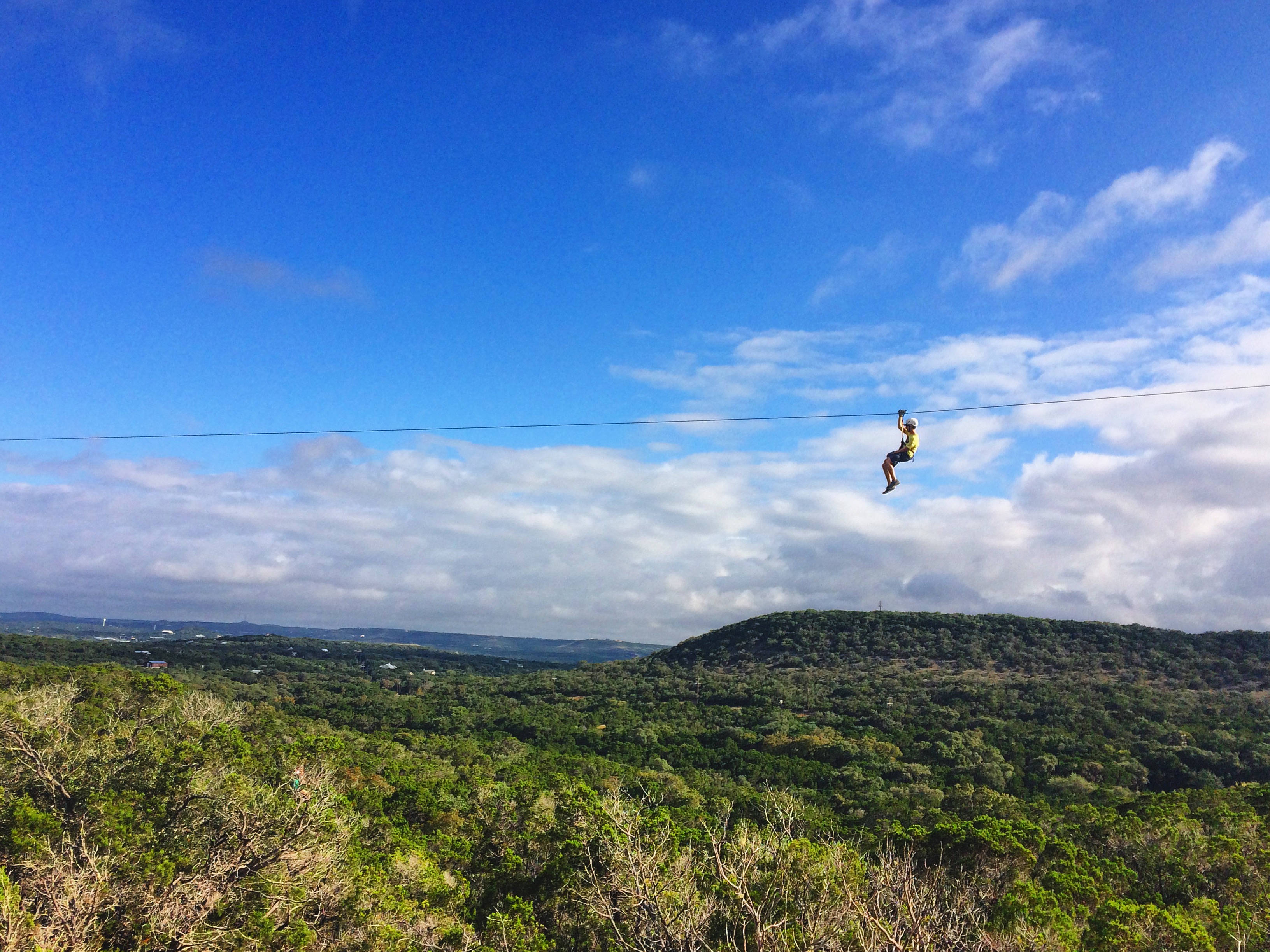 Reservations are required before you head over to Wimberley Zipline Adventures. The course includes 10 separate ziplines, takes up to 2 hours to complete, and costs just under $100 per person. No experience necessary- they will train you! They are open year-round (except for some holidays). Make sure your kids meet the age/weigh requirements. Kids must be at least 9 years old and weigh at least 65 pounds. Don't try to lie about this, because they will get stuck on the zipline! We were unable to do it this trip, because my 9 year old doesn't weigh 65 pounds yet. We plan to come back when he gains some weight! 376 Winn Valley Dr, Wimberley
Add to Pinterest:
You might also like: